Després d'un any capat, vuit i amb la perspectiva sota el nas, el passat divendres, van lliurar virtualment les acreditacions a les empreses adherides al Compromís Biosphere.
De 50 empeses o entitats del 2019 a més de 200 enguany.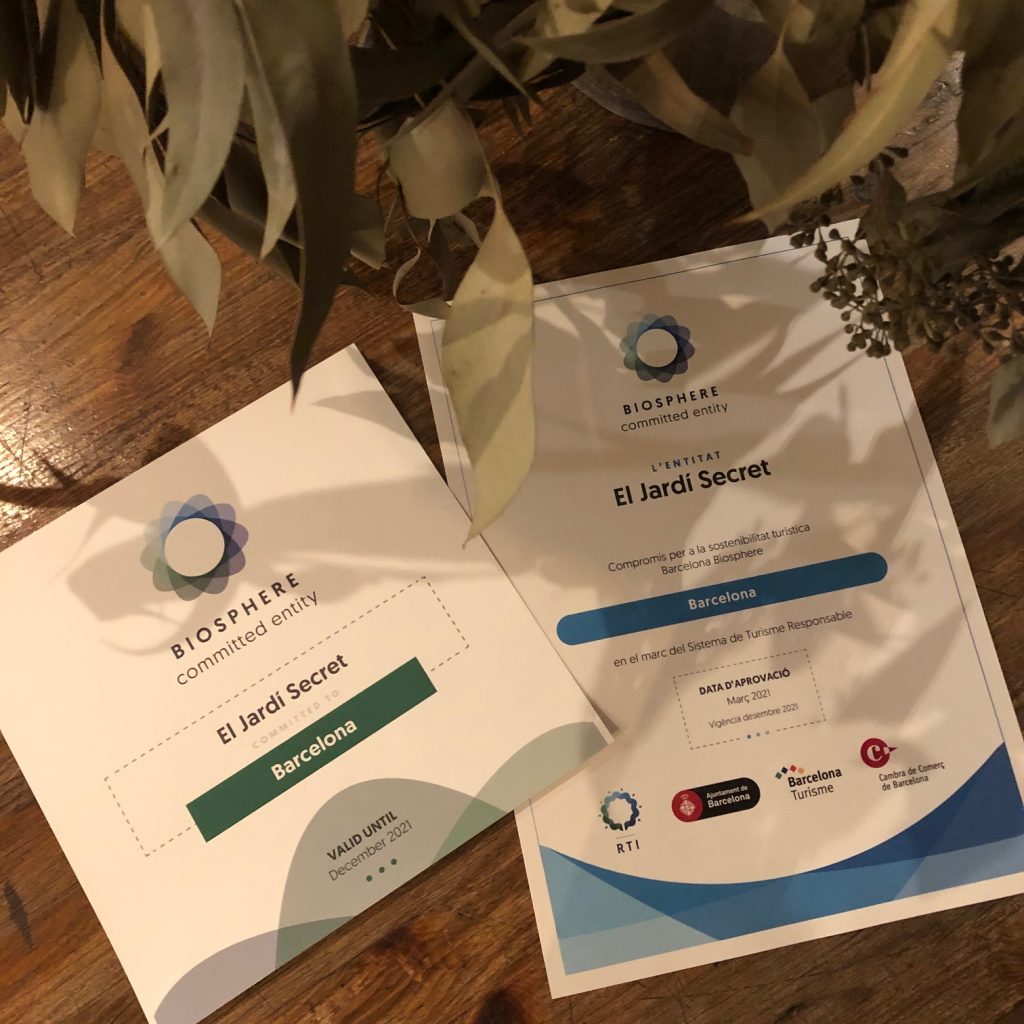 Biosphere is a good tool for normalizing sustainable and ethical supply, even in the face of the search for responsible and critical tourism with services, experiences and products you are willing to look for and pay for. Bàsicament perquè el projecte obliga a mirar se el melic i fer els canvis i innovacions necessàries que comporta una millora continua, que permetrà assolir en la realitat del dia a dia, els objectius tardans internacionals i locals.

Ara bé, com sempre en el nostre país l'anul·lació de l'Artesania, fa pales la el poc coneixement de les recerques del turista cultural (el target més Biosphere) que visita el nostre país, puntual i periòdicament, a la recerca entre altres vessants artístiques de l'artesania avantguardista.
Biosphere es resisteix tossudament a incloure la pestanya "Crafts" (ni està en el llistat de tipus d'empresa) mal endreçant aquest sector en el calaix del comerç. L'Artesania de Catalunya, un col·lectiu que tragina amb els principis ètics, ecològics, sostenibles i sobres tot culturals de la nostra terra, representat per unes 2400 persones per tot el territori, quasi paritaris, sembla que fa nosa.

A la presentació del divendres amb membres de la cambra, de l'ajuntament de Barcelona i la diputació hi vaig trobar a faltar el Consorci de Comerç, Artesania at Moda.
Curiosament en connivència amb el món artesà europeu, l'11 i el 12 th May, se celebra el 2n congrés d'Artesania Catalunya sota el lema ¨ del souvenir a l'experiència".
---
El Jardí Secret has received the Biosphere distinction, , al recinte modernista de Sant Pau juntament a entitats tan prestigioses com el Museu Picasso i la Casa Batlló entre les primeres 50 companies in the project.
This certification is an acknowledgment of the adequacy in my case, of the profession in a more sustainable, ethically responsible and committed way with the natural, human and cultural values , but above all it is a commitment of annual review of incorporation of the improvements that will bring us to the agenda. 2030.
Project Biosphere

Our mission is to serve as a tool for , a better world through a sustainable tourism experience, a sustainable tourism experience. Destinations , Business, communicators and tourists , who make up the Biosphere Community, are committed to fulfilling the 17 United Nations Sustainable Development Goals. Publishing with us you commit to your experiences participating in:

Fighting climate change
Minimize the impact on the environment by reducing consumption and waste
Protecting and respecting terrestrial and marine ecosystems , flora and fauna
It supports local entrepreneurship and development by consuming local products or services
It guarantees decent and fair working conditions
Encourages cultural exchange with respect and authenticity
Involving the tourist to value and know about sustainability increased their satisfaction

"Biosphere web"